HOPSON与中国消防在线达成战略合作,打造中国首个高端安防管家
HOPSON Reached Strategic Cooperation with China Fire Online to Create China's First High-end Security Butler
发布者:编辑部
来源:互联网
浏览:
2023-04-17 14:27:23
本篇文章6018字,读完约15分钟
On April 15, 2023, HOPSON Development Holdings Ltd. officially signed the Strategic Cooperation Agreement on High-end Security Butler with China Fire Online, creating China's first high-end security butler service. This cooperation will usher in a new era of high-end residential security in China, upgrading industrial standards.
On the day, Zhu Jurong, Chairman of HOPSON Development Holdings Ltd., Liu Yunqi, President of HOPSON Flagship Real Estate, Ai Jin, Chairman of China Fire Online Co., Ltd., Li Yutong, General Manager of the Brand Marketing Center of HOPSON Flagship Real Estate, Zhang Yuxiang, General Manager of MAHA Collection of HOPSON Flagship Real Estate, Song Feifei, Deputy General Manager of MAHA BEIJING, Peng Yan, Executive Director of China Fire Online Co., Ltd., and Jiang Zhiqi, General Manager of Fire Cloud (Shanghai) Science and Technology Co., Ltd. attended the signing ceremony.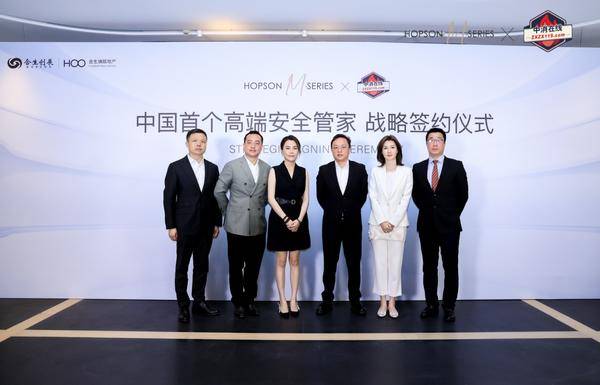 Both parties will give full play to their respective advantages and characteristics, and jointly explore and promote the construction, upgrading and maintenance of the fire safety system of HOPSON M-SERIES. On the one hand, through the existing business and supply chains, the two sides could realize the connectivity and precise complementarity of supply and demand resources. On the other hand, the two sides will adopt and apply the micro fire station, smart fire Internet of Things big data platform and other facilities in the high-end communities of HOPSON M-SERIES, creating safer smart communities.
China Fire Online Co., Ltd. has been committed to establishing standards for the fire safety industry, fire safety product industry and intelligent fire Internet of Things, and providing the government, groups and enterprises with "Internet +" one-stop technical operation solutions, to promote the innovation of fire safety model and intelligent science and technology. By leveraging HOPSON's high-quality product system and operation experience, China Fire Online brings its years of rich experience and powerful intelligent security system to HOPSON M-SERIES, creating the first high-end security butler service in China, and upgrading residential security for high-net-worth customers.
It is introduced that upon reaching this strategic cooperation, China Fire Online, together with its Fire Cloud Technology Platform, will provide more customized services for the HOPSON M-SERIES. And the tailored "1+N+M" service system of China's first high-end security butler will be launched soon. To be specific, the system includes the "1 to 1 full-time security butler", which provides the whole-process security management services, and builds standardized and regulated safety mechanisms and management systems, realizing dynamic security management. The "N security service contents" cover the whole process of the security management in projects, including four security management services of fire safety, security, technical defense and environment, as well as multidimensional contents such as the construction of leading security management system and emergency plan preparation and Internet of Things construction services. The "M supporting service plates" include services for intelligent fire safety construction, traditional fire safety project construction, and persified services such as fire safety consulting, design, maintenance, detection and evaluation technology.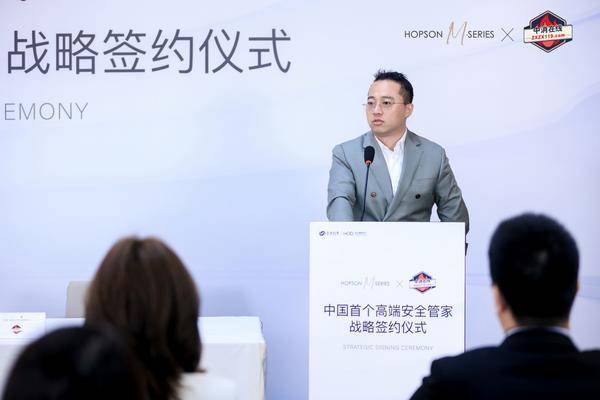 Mr. Liu Yunqi, President of HOPSON Flagship Real Estate, said in the interview that: "HOPSON M-SERIES adopts an unconventional real estate development model. We always prioritize security, and take a people-oriented perspective in designing products and the lifestyle. It is the mission of HOPSON to live up to the trust and recognition of our customers. As a pioneering security platform in China, China Fire Online has always been leading the industry, so we choose to jointly create China's first high-end security butler service. This strategic cooperation not only comprehensively upgrades residential security, but also reflects our sense of responsibility for owners and society. It also demonstrates our insight into the fundamental demands and advocates the new life concepts of HOPSON M-SERIES. HOPSON M-SERIES is a global lifestyle brand, and should provide world-class quality. In the future, we will collaborate with more outstanding strategic partners like China Fire Online to provide more high-end, safer and reliable services for our owners."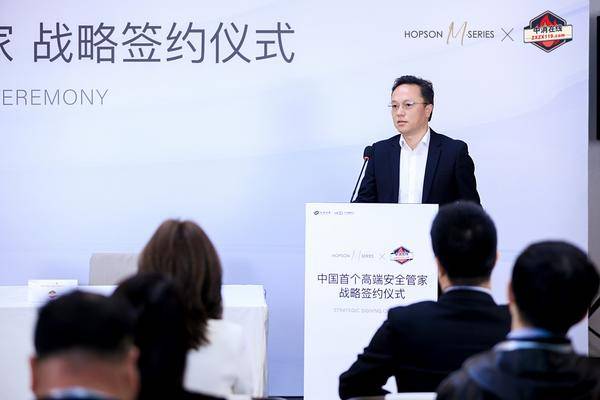 Mr. Ai Jin, Chairman of China Fire Online Co., Ltd., said: "We have thoroughly investigated and carefully deliberated about entering the high-end security service field, and eventually chose the most influential high-end housing brand in the residential market, mainly because it boasts mature conditions, advanced facilities and concept, enabling it to better utilize our services and technologies. While China Fire Online, as a top platform enterprise in China, gathers a first-class team of fire safety experts and talents in China. We create a comprehensive safety system integrating residential safety, life safety and fire safety, and form a strong data platform through online and offline technological development, thus providing 24-hour security service for high-end communities. I am confident that this strategic cooperation with HOPSON M-SERIES will definitely open up a new chapter of the residential security industry."
It is foreseeable that the groundbreaking cooperation between China Fire Online and HOPSON will mark a milestone in China's high-end residential fire safety field. In the future, the two sides will adhere to the cooperation mode featuring joint-development, opening, inclusive and win-win results, and leverage the derivation and integration of three dimensions of civil air defense, physical defense and technical defense, to form a full-cycle closed loop of security management, and create the most advanced residential security experience in China, thus promoting the ecological layout of emergency safety industry in the residential field.
相关阅读:
泰晤士报本文标题:HOPSON与中国消防在线达成战略合作,打造中国首个高端安防管家    
 地址:http://www.tlfptw.com/Business/20230417/4446.html